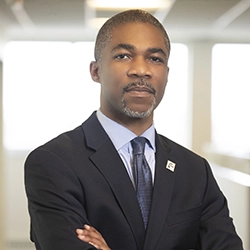 Eric Doeh
CEO/President, Detroit Wayne Integrated Health Network
Detroit, MI
Eric Doeh is the Chief Executive Officer/President of the Detroit Wayne Integrated Health Network and oversees all day-to-day operations in conjunction with his Executive Leadership Team. Mr. Doeh joined DWIHN in June 2017 as Chief Network Officer/Compliance Officer and went on to serve as Deputy CEO.
As CEO/President, he leads the organization in its mission of providing exemplary integrated behavioral health services and supports to over 75,000 people in Wayne County; last year alone DWIHN served nearly 200,000 individuals. Mr. Doeh oversees the organization's partnership with the Detroit Police Department and the city of Detroit's Housing Department Behavioral Health Co-Response Pilot program. DWIHN's organizational efforts remain paramount with providing Crisis Intervention Team training to law enforcement agencies in over forty Wayne County cities.
The robust DWIHN Provider Network allows choice for people in need of services and will be enhanced by the construction of a new Care Center being built in the city of Detroit which will provide short-term crisis services to adults and children, Behavioral Health and Opioid Health Homes, DWIHN's School Success Initiatives and offering mobile integrated health services through community outreach partnership programs.
All initiatives enhance customer experience, provide additional community services and bring added value to the people DWIHN serves. Mr. Doeh was an instrumental force in driving DWIHN's System Transformation plan for successful outcomes for the people we serve; and remains committed to working with Federal and State governments to ensure that healthcare dollars are spent efficiently, accurately and responsibly.
He served as Deputy Chief Assistant for the United States Attorney's Office; as Assistant Prosecuting Attorney for the Wayne County Prosecutor's Office; and as Assistant Attorney General in the D.C. Office of the Attorney General. Doeh was also recently appointed by Governor Gretchen Whitmer to the Mental Health Diversion Council. He is a member of the National Council for Behavioral Health, Michigan's Crisis Intervention Team Stakeholder Committee and the Wayne County Jail Diversion Council. Doeh studied Political Science and English at the University of Michigan and received his Juris Doctorate from Cleveland-Marshall College of Law. He has served as an Adjunct Professor at the University of Detroit School of Law, a Lecturer and Presenter at the University of Michigan Law School, Wayne State College of Law, and Law Enforcement Agencies in Michigan. He is also a member of the Michigan Bar Association, the State Bar of Michigan Character and Fitness Committee, National Bar Association and Wolverine Bar Association. He also serves on the Center for Health Law & Policy Advisory Council for the Cleveland-Marshall College of Law.