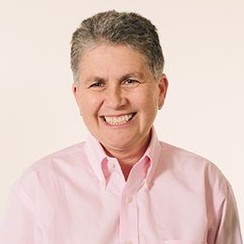 A National Council member, HealthRIGHT 360 has served San Franciscans' mental health, substance use and primary care needs for decades. We sat down with Vitka Eisen, their president and CEO and a member of our board of directors, to discuss their commitment to advance mental health and substance use care for LGBTQ+ persons and others.
---
Brett Beckerson: San Francisco is well-known for its inclusivity of LGBTQ+ persons. How has your organization worked to be an inclusive space for all populations, specifically LGBTQ+ persons?
Vitka Eisen: HealthRIGHT 360 is proud of its long history of providing care and services to our LGBTQ+ community. As a San Francisco-born and -bred organization, we have always approached our work with love and compassion, and without judgement. In the 1980s, we welcomed people with HIV into care at a time when there were so many misconceptions about HIV transmission. As part of a research project with the University of California San Francisco, we were an early pioneer in contingency management for men who have sex with men and use meth. And in our work providing substance use treatment to men incarcerated in California state prisons, we were the first organization to initiate a "Pride Group" for gay, bisexual and transwomen on the prison yard.
We are particularly proud of the work we do for our trans community. In 1992, HealthRIGHT 360 was one of the first substance use disorder treatment organizations to offer gender-responsive residential and outpatient treatment for transgender individuals who use drugs. And through our Lyon-Martin Health Services clinic, we provide primary medical care, sexual and reproductive health care, and mental health services for women, gender non-conforming people and transgender people of all gender identities and sexual orientations. Our model of care has proliferated across the country, but there is still more to do. Transgender and non-binary individuals still face tremendous oppression and stigma, and far too often members of the LGBTQ+ community face obstacles and aggression when seeking health care. We are still fighting for basic human and civil rights for transgender people.
BB: San Francisco has been innovative in supporting its homeless populations – including those who are LGBTQ+ identified – during the COVID-19 pandemic through partnerships with the hospitality industry. What other inclusive innovations have supported San Francisco and its communities during this time? How has your organization been involved in those efforts?
VE: As an organization, HealthRIGHT 360 endeavors to provide a safe, warm and welcoming environment to all of our clients because we recognize each person as unique and value their life experiences and journey. Our promise is to meet people where they are, and our goal is to support them on their path toward health. This year has been extraordinarily challenging for everyone, more so for isolated LGBTQ+ individuals and those experiencing homelessness.
During the pandemic, HealthRIGHT 360 was tasked by the public health department with providing mobile health care specifically for LGBTQ+ individuals experiencing homelessness who were temporarily housed in hotels. Additionally, our organization has been operating isolation and quarantine hotels to safely care for individuals with COVID-19. We have also offered telecare as an option to patients to limit exposure to COVID-19 and keep our clients safe. What's more, HealthRIGHT 360 has been part of the launch of the Street Crisis Response Team, an alternative to policing that responds to 9-1-1 calls for people in behavioral crisis and provides them with a clinician, EMT and peer to help them with their needs.
BB: Media reports have identified the impact of overdoses on San Francisco. For a city with high populations of LGBTQ+ persons, how has the overdose epidemic affected your organization and the people you serve? What supports are needed at the local, state and federal levels to alleviate the overdose crisis?
VE: The overdose epidemic has hit San Francisco hard. Last year, three times more people died due to an overdose in San Francisco than of COVID-19. Our city undertook drastic, yet necessary, actions to stop the spread of COVID-19 by implementing emergency policies and relief to protect people from the spread of the virus. The largely successful COVID-19 response can serve as a model for an appropriately scaled and integrated public health response to address the ongoing lethal overdose crisis.
HealthRIGHT 360 supports solutions for the overdose crisis – such as low barrier services, contingency management, drug sobering centers (one of which we will be opening in the fall), overdose prevention programs (we are a co-sponsor of SB-57), housing and ultimately moving toward safe supply. These are all proven methods that can dramatically reduce the number of overdoses.
HealthRIGHT 360 is a provider of substance use disorder treatment, mental health services and primary care to more than 45,000 Californians annually. HealthRIGHT 360 provides care that is compassionate, non-judgmental and science-based. They provide services regardless of one's ability to pay, inspired by their belief that health care is a right, not a privilege.
Guest Author
Brett Beckerson
Director of Public Policy & Advocacy
National Council for Mental Wellbeing