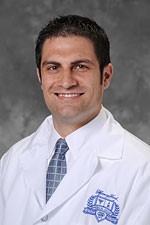 Brian Ahmedani
Research Scientist, Henry Ford Health System; Licensed Clinical Therapist,

Brian K. Ahmedani, PhD, LMSW is a research scientist at Henry Ford Health System with appointments at the Center for Health Policy and Health Services Research and the Department of Psychiatry. He is also a licensed clinical therapist. As a researcher, his main interests have centered around mental health and substance use services, with a special focus on suicide prevention.
He is the overall lead or Henry Ford Site-Lead of several research projects in these areas, including his role as Site-Principal Investigator for the Mental Health Research Network, where he leads the Suicide Prevention Scientific Interest Group across the network. Recently, Dr. Ahmedani and colleagues have studied variation in the patterns and timing of healthcare use prior to suicide behavior. He also conducts evaluation for the award-winning suicide prevention initiative, Perfect Depression Care, in Behavioral Health Services at Henry Ford.