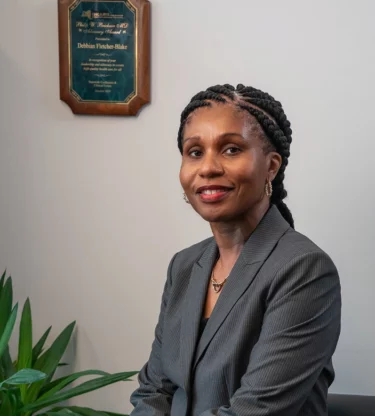 Debbian Fletcher-Blake, APRN, FNP
CEO, VIP Community Services, Inc.
Bronx, NY
Debbian Fletcher-Blake, APRN, FNP, is the CEO of Vocational Instruction Project (VIP) Community Services, Inc., a 501(c)(3) organization in the Bronx that offers comprehensive medical, behavioral health, housing, vocational and supportive services to the community. She served as a clinician and administrator in multiple New York City healthcare facilities that provide integrated healthcare to underserved populations including targeted healthcare to people that are unhoused. Debbian also worked in academia serving as the Clinical Director of the Mobile Health Program and instructor at New York University College of Nursing. Debbian has been active in building culturally competent workforces, tackling healthcare inequities, focusing on strategies to eliminate disparities and working to ensure community members are active participants in deciding systems of care. Due to her vast experience in quality assurance, and physical and behavioral health care, Debbian has served as a subject matter expert on numerous clinical and administrative projects both locally and nationally.
Ms. Fletcher-Blakes has received numerous quality awards from the Bureau of Primary Health Care, Health Resources and Services Administration (HRSA). She collaborated with the New York State Department of Health (NYSDOH) to establish State guidelines for licensing small nontraditional clinics to allow individuals to receive health care in places that are convenient, safe and accessible. Debbian has established multiple National Health Services Corps (NHSC) programs in several institutions including for behavioral health. She collaborates with multiple community stakeholders to improve access to mental health and addiction services for people in under-resourced communities. She serves as a mentor to colleagues and programs. In 2020-2021 she served as a mentor to two Certified Community Behavioral Health Clinics (CCBHC) and continues to provide mentorship after her commitment ended. Additionally, Ms. Fletcher-Blake continues clinical practice to get firsthand experience of the community's medical/behavioral health needs to influence her advocacy and administrative responsibilities.
Ms. Fletcher-Blake collaborates with colleagues, legislators, and other stakeholders locally and nationally to impact health care for people in underserved communities regardless of race, ethnicity, gender, socioeconomic status, sexual orientation, geographical location, social conditions or any distinguishing factors that are used to marginalize individuals/populations, from the dual perspectives of a clinician and administrator. In 2019 Debbian began advocating for the Department of Health, Office of Mental Health, and Office of Addiction Services and Supports to provide sustainable reimbursement for CCBHCs. Drawing on her experience with reimbursement in federally qualified health centers, she recommended they used an indigent care pool in the rate determination methodology, to ensure equitable services. The outcome of this advocacy is pending but promising.
Ms. Fletcher-Blake serves on several boards including Montefiore Nyack Hospital, the Community Health Care Association of New York State (CHCANYS), the Coalition of Medication-Assisted Treatment Providers and Advocates (COMPA) of New York State, and NYC Coalition for Behavioral Health, CCBHC Expansion Grantee National Training and Technical Assistance Center (CCBHC-E NTTAC) Advisory Board, and collaboratives and associations including Alcohol and Substance Abuse Providers (ASAP) of NYS. She serves as the Co-Chair of the CHCANYS Justice, Equity, Diversity, and Inclusion (JEDI) Advisory Council.
Most recently in 2022, Ms. Fletcher-Blake was awarded Crain's New York Notable Black Leaders as well as 2022 Schnepps Media Healthcare Heroes presented by Catholic Health for her contribution and dedication to the healthcare community. In 2021, for her role in rebuilding New York City during the pandemic, she was recognized as an Empire Whole Health Hero and showcased on the Bronx Power List as one of the most influential and impactful individuals in the borough for her continued commitment to improving the Bronx under-resourced communities. In 2019, for her leadership, vision, and dedication to reducing health disparities in the communities and transforming the lives of underserved populations, Debbian was selected as a CRAIN's Notable Women in Health Care. She is also the recipient of the prestigious Dr. Philip W. Brickner Award Honoree from CHCANYS for advocating and being a champion for the medical needs of those who are vulnerable and experiencing homelessness.
Ms. Fletcher-Blake is a Board-certified Family Nurse Practitioner licensed in New York State. She holds a Master of Science in Nursing from Pace University School of Nursing. With an Executive Leadership Certificate in Health Information Technology from the University of Colorado School of Nursing, Debbian brings expertise and efficiency in the coordination of health and social services programs through health information technology. Debbian holds an Executive Leadership certificate from UCLA School of Business and Bachelor of Science degrees in Nursing and Chemistry.