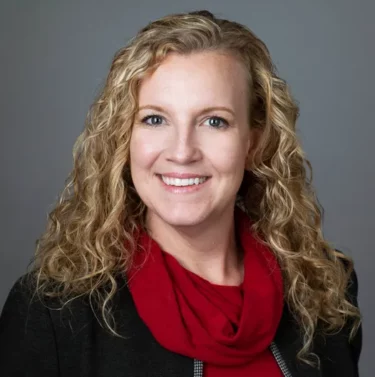 Katy Friedebach, M.D.
Chief Medical Officer, Compass Health Network (CHN)
KS/07
Expertise: Family medicine, integrated health systems, managed care, value-based payment models, clinical leadership development
Dr. Katy Friedebach, Chief Medical Officer at Compass Health Network (CHN), is a board-certified family physician with more than 20 years' experience serving patients in rural and urban settings. Born and raised in central Missouri, she is a graduate of the six-year combined BA/MD medical program at the University of Missouri-Kansas City (UMKC) and began her career as a family physician in Versailles, Mo. CHN is a fully integrated health care delivery system serving over 115,000 individuals at more than 90 locations across the state of Missouri. It is a Certified Community Behavioral Health Clinic (CCBHC) and a Federally Qualified Health Center (FQHC) offering inpatient, residential, crisis, and outpatient services. Dr. Friedebach works alongside operational leaders to support over 40 primary care, 50 dental, and 95 psychiatric providers.
In the managed care realm, Dr. Friedebach was the Chief Medical Officer of two Centene-owned health plans: Sunflower Health Plan (Kansas) and Sunshine Health plan (Florida). Her teams served 150,000 members in Kansas and up to 2.4 million members in Florida. One in 10 Floridians received health care coverage through a Sunshine Health Plan line of business. Dr. Friedebach served on the Sunshine Health Plan Board of Directors, Ascension Complete Board of Directors and was Sunshine Health Plan's Senior Executive of Quality Improvement. She was also the leader of Sunshine Health Plan's Population Health Services overseeing the Quality, Pharmacy, Utilization Management, Case Management, Medical Affairs and Health Services Operations Departments.
Prior to working in managed care, Dr. Friedebach was the Chief Clinical Officer at the Community Health Center of Central Missouri, an FQHC. During her time there, the health center expanded services to three sites providing primary care, behavioral health, OB/GYN, pediatric, pain management, cardiology, optometry and dental services. Dr. Friedebach oversaw the health center's first National Committee for Quality Assurance (NCQA) Patient Centered Medical Home accreditation and the full implementation of behavioral and physical health integration. In addition, the Community Health Center of Central Missouri was one of the first health centers in the nation to have a pain management clinic on site and implement the health home program. A member of the Missouri Health Homes State Plan Amendment task force, Dr. Friedebach helped develop and present the curriculum for the Missouri Health Home Provider Institute when the health home program began.