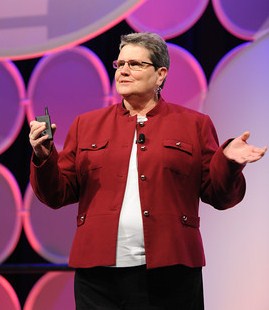 Pamela Hyde was nominated by President Barack Obama and confirmed by the U.S. Senate in November 2009 as Administrator of the Substance Abuse and Mental Health Services Administration (SAMHSA), a public health agency within the Department of Health and Human Services. The agency's mission is to reduce the impact of substance abuse and mental illness on America's communities.
As Administrator, Ms. Hyde leads SAMHSA's staff of approximately 550 public health professionals and manages a budget of approximately $3.5 billion dedicated towards efforts and policies advancing the health and wellbeing of the American people
Ms. Hyde comes to SAMHSA with more than 30 years experience in management and consulting for public healthcare and human services agencies. She has served as a state mental health director, state human services director, city housing and human services director, as well as CEO of a private non-profit managed behavioral healthcare firm. In 2003 she was appointed cabinet secretary of the New Mexico Human Services Department by Gov. Bill Richardson, where she worked effectively to provide greater access to quality health services for everyone.
Ms. Hyde received her J.D. from University of Michigan Law School (1976) and her B.A. from Southwest Missouri State University (1972).