Quality Measurement in Crisis Services
Jan 17, 2023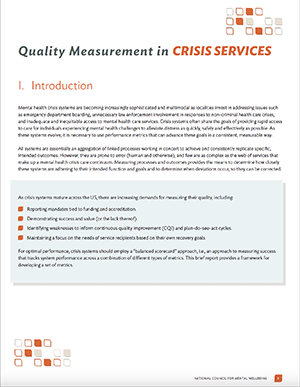 Mental health crisis systems are becoming increasingly sophisticated and multimodal as localities invest in addressing issues such as emergency department boarding, unnecessary law enforcement involvement in responses to non-criminal health care crises, and inadequate and inequitable access to mental health care services. Crisis systems often share the goals of providing rapid access to care for individuals experiencing mental health challenges to alleviate distress as quickly, safely and effectively as possible. As these systems evolve, it is necessary to use performance metrics that can advance these goals in a consistent, measurable way.
As crisis systems mature across the US, there are increasing demands for measuring their quality, including:
Reporting mandates tied to funding and accreditation.
Demonstrating success and value (or the lack thereof).
Identifying weaknesses to inform continuous quality improvement (CQI) and plan-do-see-act cycles.
Maintaining a focus on the needs of service recipients based on their own recovery goals.
For optimal performance, crisis systems should employ a "balanced scorecard" approach, i.e., an approach to measuring success that tracks system performance across a combination of different types of metrics. This brief report provides a framework for developing a set of metrics.