Training and Educating Public Safety to Prevent Overdose Among Black, Indigenous, and People of Color Communities: An Environmental Scan
Feb 3, 2022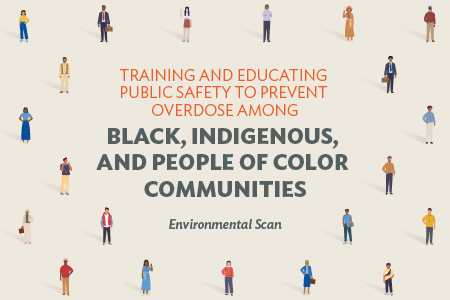 To identify the extent of public safety-led overdose prevention efforts and corollary training for public safety personnel that are tailored for BIPOC communities, the National Council for Mental Wellbeing, with support from the CDC, conducted an environmental scan consisting of a literature review, 11 key informant interviews, and two roundtable discussions with a diverse group of individuals with experience in overdose prevention, harm reduction, or public safety.
Findings from the environmental scan are detailed in Training and Educating Public Safety to Prevent Overdose Among Black, Indigenous, and People of Color Communities: An Environmental Scan.
Key Findings from These Activities:
The number of public safety-led overdose prevention efforts are increasing, but there is little evidence of impacts.
Institutional, organizational, community, and individual barriers impede public safety-led overdose prevention efforts in BIPOC communities.
Effective partnerships with BIPOC communities – and with other agencies – are essential.
Public safety personnel need additional training in key topic areas.
Trauma is endemic in BIPOC communities, and therefore TI-ROSC approaches may need to be incorporated.