The COVID-19 Scalable Solutions Learning Collaborative, hosted by the Center of Excellence for Integrated Health Solutions, started as a pilot project borne of the need to respond to the crisis exacerbated by the pandemic. Since that time, it has established new pathways – from telehealth services and safety protocols to virtual wellness tools – to find integrated solutions among some of the nation's most vulnerable populations and communities. In the second of this three-part series, community health centers share lessons learned and actionable solutions to support an inpatient residential community.
Pathways Behavioral Services, a participating site in the Center of Excellence for Integrated Health Solution's collaborative in Waterloo, Iowa, implemented new rehabilitative services protocols in response to COVID-19 to ensure they could remain open and continue to provide services to those experiencing SUD or transitioning back into the community from the criminal justice system.
The critical work of the Junkman/Knoeble Center (JKC), part of Pathways Behavioral Services, could not come to a standstill because of the COVID-19 pandemic. The 20 residents of our transitional housing center for people in recovery from substance use disorder (SUD) relied on these services for support as they transitioned back into the community from prison or a substance use disorder treatment facility. JKC was their home and their lifeline as they learned the skills they needed to become members of the community – financial responsibility, gaining and keeping employment and maintaining sobriety – with support from their caseworkers/counselors and community involvement.
With all residents actively out in the community, we had to quickly adjust practices and procedures to ensure staff and clients were protected from exposure to COVID-19. Open discussions between staff and residents were essential to the success of these changes and residents were encouraged to offer their input and take an active role in exploring ways to support one another through weekly discussion and open communication.The organization's response was quick and decisive. JKC was closed to the public, the doors were locked and the number of residents reduced from 20 to 11 to prevent shared rooms. Visits were confined to an outdoor picnic area while following social distancing protocols. During the process, some residents decided to leave and live elsewhere; others due to successful attrition.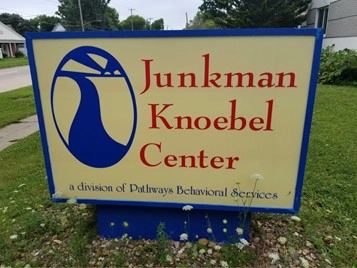 Procedures like washing hands, cleaning, wearing masks in common areas and taking and recording temperatures were readily adopted, but residents' greatest fear was homelessness, especially if they became ill. Residents were assured they would continue to be supported by the agency and could stay with isolation protocols in place should they fall ill.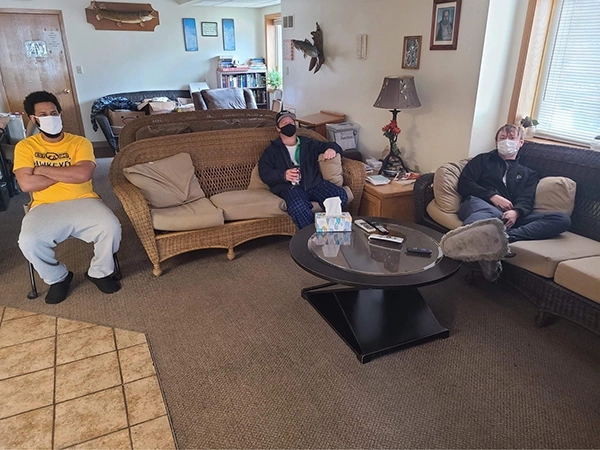 We believe that including the residents in discussions and listening to their concerns and opinions was key to the success of our response to COVID-19. With added support and education, we saw a reduction of drug and alcohol relapse of just 17% over this summer, compared to 24% for the previous year. Surprisingly, the pandemic instilled a sense of increased personal responsibility for residents' own wellbeing and health, with 75% of residents becoming more aware of how their actions affect others in their neighborhood, community and state.
Maintaining open lines of communication and encouraging personal responsibility helped us overcome challenges before they became problems. COVID fatigue was inevitable and residents grew tired of wearing their masks in the common areas of the house; however, they continued social distancing, washing hands and sanitizing common areas. As the pandemic wore on, some residents started to isolate in their rooms so they didn't have to wear masks. Staff recognized the emerging problem and put extra effort into supporting residents throughout this period.
We plan to sustain some of the changes we've made responding to COVID-19 in a few ways. We will continue to use personal protection equipment (PPE) and other sanitary equipment purchased with funds from the COVID-response grant. Most important, staff will continue to include residents in discussions on problem-solving and making improvements on a weekly basis. As we continue to face the challenges of the COVID-19 pandemic, we will adjust our procedures to ensure the safety of our most vulnerable clients.
By working with our community of residents, we were able to come up with solutions as a group to keep everyone safe, with residents taking ownership over their own and each other's safety. Residents continue to take their temperatures and other safety precautions to stay safe during the on-going pandemic. We've also been able to share about our initiative and safety precautions with other community providers to not only spread awareness of our successes, but ensure other providers know our site is a safe place for clients and referrals.
Patti Mohling, LMSW, CADC provides services as a licensed master social worker and certified alcohol and drug counselor. She has been a licensed social worker serving her community for 30+ years, working with a variety of clients, including those with substance use issues, homelessness, mental health problems, foster care, teens and children and family services.
Guest Author
Patti Mohling, LMSW, CADC
Counselor/Preauthorization Coordinator
Pathways Behavioral Services