Building Capacity Through Community Behavioral Health Organizations to Prevent Overdose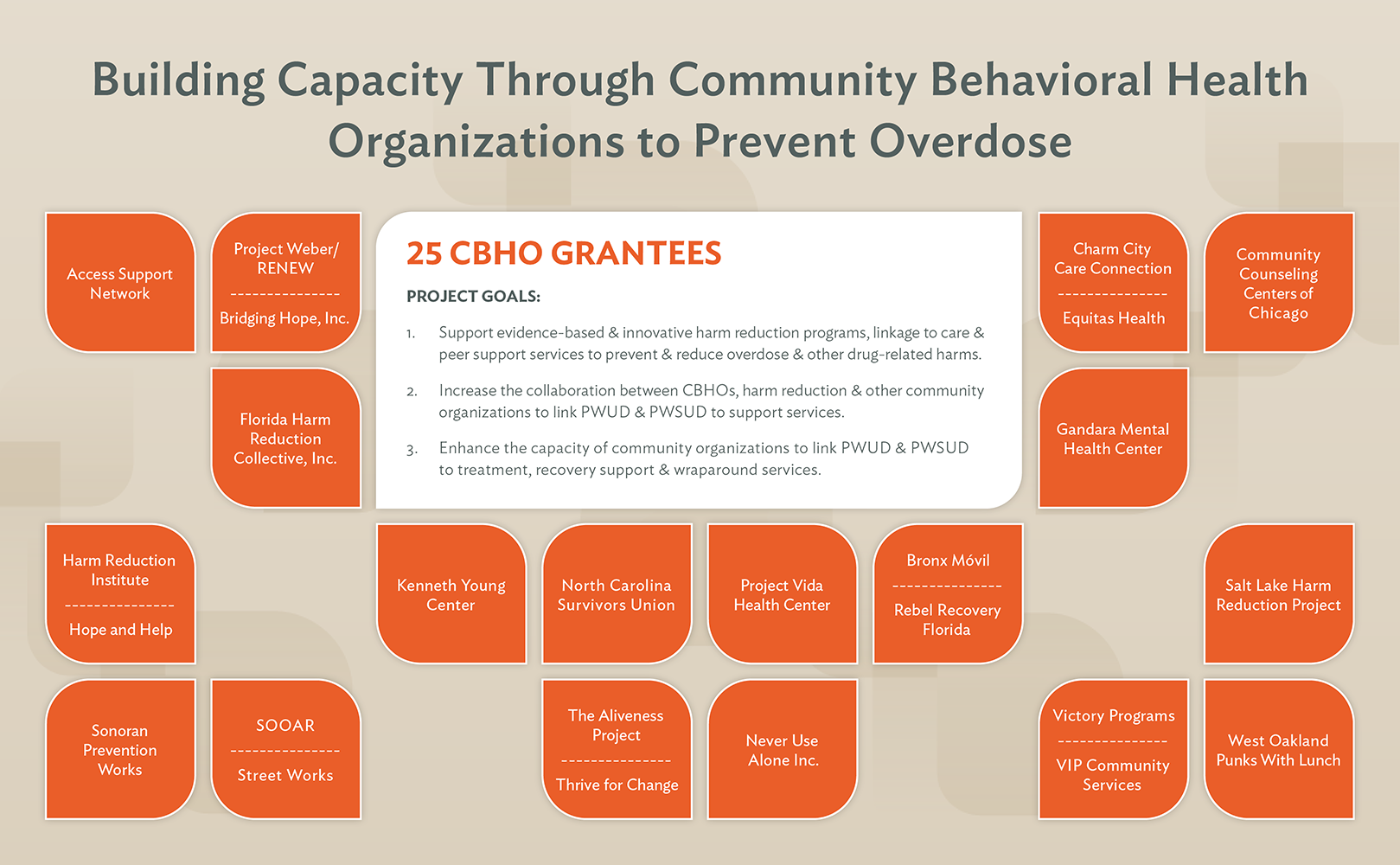 Unprecedented rates of overdose deaths call for innovative programs that expand access to and engagement in overdose prevention and treatment services.
In March 2023, the National Council for Mental Wellbeing, with support from the Centers for Disease Control and Prevention (CDC), launched Building Capacity Through Community Behavioral Health Organizations. This initiative provided up to $100,000 each in grant funding to 25 community-based health organizations (CBHO) to support their overdose prevention efforts. The organizations come from all over the U.S.
The initiative goes beyond funding. The National Council is also providing the funded CBHOs training and technical assistance that will enhance and expand critical services that reduce the risk of overdose. These efforts will increase engagement in innovative, evidence-based harm reduction programs; linkage to behavioral and physical health care; and peer recovery support services nationwide.
Linkage to care, a crucial early step in successful overdose prevention and response, is a coordinated system and practice of actively connecting individuals to services to address problematic use of opioids or other drugs. The 25 CBHOs funded under this initiative focus on connecting underserved individuals to services that support them in improving their health and wellbeing.
Peer support is essential to linkage to care initiatives. Emerging evidence indicates that peer-support models can be effectively integrated into existing services, improving outcomes for program participants Peer workers — individuals with relevant living experience of drug use or lived experience of recovery from a substance use disorder (SUD) who are trained to offer support — help program participants navigate systems and provide other instrumental emotional and relational supports.
Successfully linking people who use drugs and people with SUD at risk of overdose to care plays a key role in the overdose epidemic, addressing structural inequities related to health and reducing suffering, disease and death.
25 CBHO Grantees
Capacity Building Resource Hub
The Capacity Building Resource Hub provides resources community behavioral health organizations (CBHO), harm reduction organizations and other community-based organizations can use to support overdose prevention efforts and expand critical services that reduce the risk of overdose. Resources include a collection of practice-oriented toolkits and guides, resources for organizations and staff, educational videos and advocacy-oriented documents that cover related aspects of harm reduction and overdose prevention as broadly as possible.
In the resources, you'll find trends and developments related to emerging substances of concern, safer drug use, needs of specific groups of people who use drugs or alcohol (such as young and older drug users, women, LGBTQ+) and linking them to care, and evidence-based practices to increase the capacity of organizations to effectively serve people who use drugs.
Our objective is to support community-based organizations that provide harm reduction and overdose prevention services, especially those offering linkages to care and peer support services.
Overdose Prevention Work and Resources
Check out our overdose prevention work across our organization below. For more information contact Emma Hayes at EmmaH@thenationalcouncil.org.
This project is supported by the Centers for Disease Control and Prevention (CDC) of the U.S. Department of Health and Human Services (HHS) as part of a financial assistance award totaling $3,000,000 with 100% funded by CDC/HHS. The content is that of the authors and does not necessarily represent the official views of, or an endorsement by, CDC/HHS or the U.S. Government.
Subscribe for Harm Reduction Updates
Receive the latest updates, news and resources related to harm reduction and overdose prevention by subscribing to the monthly Focus on Harm Reduction Newsletter.