Wellbeing Wednesdays, Episode 10 — Adding Up the Cost of Health Inequity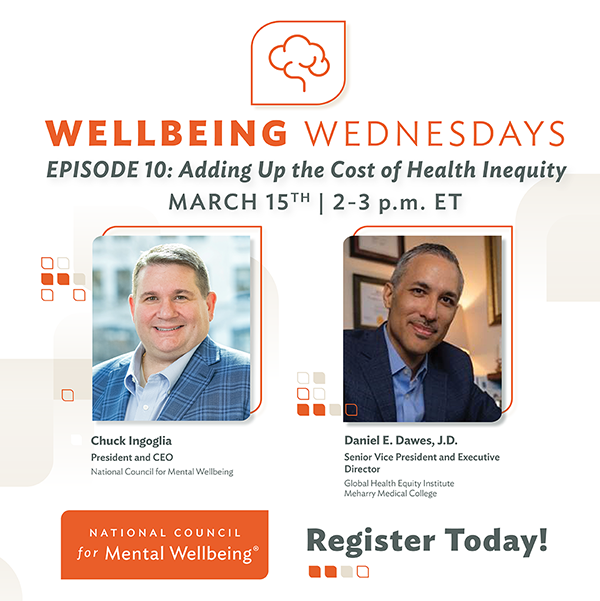 Our nation's health care system too often leaves people of color and other minorities behind, while chronic underfunding continues to create devastating effects on health care outcomes.
What can we do to address these long-standing failures in our health care system? How can we close the gap in health care access for historically underserved communities?
Find out during Adding Up the Cost of Health Inequity, a new Wellbeing Wednesdays event on March 15 (2-3 p.m. ET) led by Chuck Ingoglia, the National Council's president and CEO. Joining him is Daniel E. Dawes, JD, a public health leader, health policy expert, and senior vice president and executive director of the Global Health Equity Institute, Meharry Medical College.
As the primary author of the compelling publication, The Economic Burden of Mental Health Inequities in the United States Report, Dawes will join us online to discuss:
Important insights from the thought-provoking academic study.
The far-reaching consequences of health inequity on Black Americans.
How inequities have yielded significantly worse outcomes for marginalized communities.
The impacts of neglecting to act on systemic health inequalities.
Learn more about health care disparities, explore new perspectives and discover how you can make a mark in your community during our 10th Wellbeing Wednesdays episode!