Partnership Program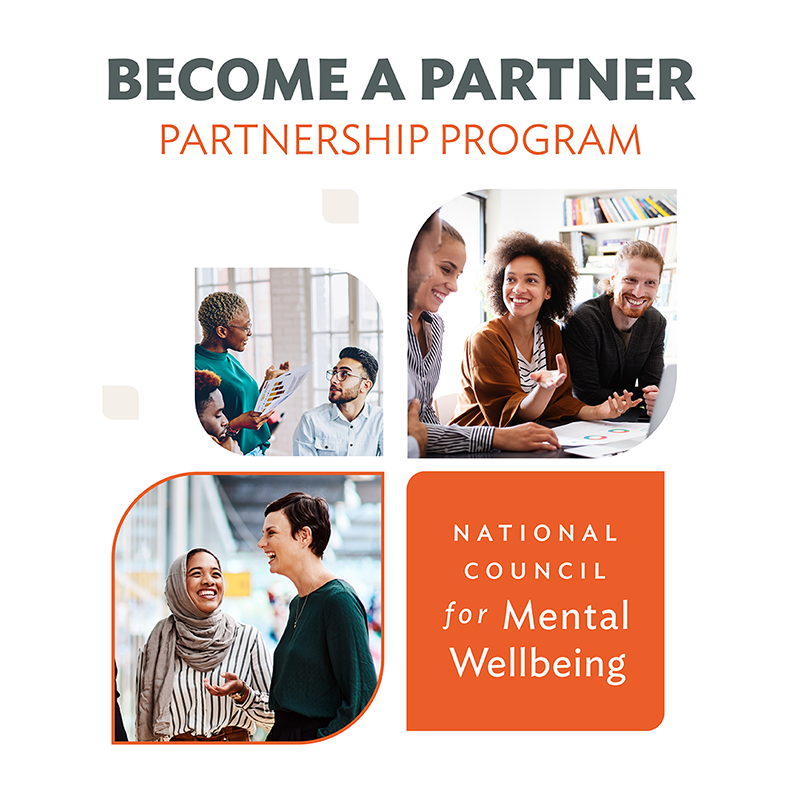 About the Program
The National Council for Mental Wellbeing's Partnership Program helps connect organizations with a shared mission and passion for mental health and addiction treatment and services. Through the Partnership Program, we can help your organization achieve its strategic goals by:
Increasing your visibility and brand awareness among the National Council's network.
Advancing the mental health and addictions field by contributing and disseminating information, research and knowledge.
Becoming part of a nationwide network of providers and stakeholders contributing to the mental health of their communities.
The Partnership Program is a collaboration. By strengthening each organization we partner with, we will improve mental health and addictions outcomes across the United States.
The Partnership Program includes four Partner levels — Platinum, Gold, Silver and Bronze.

You can select the level that offers benefits that best align with your organization's goals and needs.
For more information about which level is best for you, download the Partnership Program brochure. If you are ready to get started, complete the interest form below.
Partnership Program Interest Form
Our Partnership Program offers an opportunity for companies to collaborate with us in making a positive impact in the field. If you have a product or service that can benefit our members, we invite you to express your interest by completing our online form. Each submission will be carefully reviewed to determine if there is a potential fit.
If your company aligns with our program, we will reach out to you directly to discuss next steps and explore collaboration opportunities.
Complete the interest form below to express your interest in becoming a partner.