Youth must feel safe to engage in conversations around substance use prevention. You can create a welcoming and safe environment by building trust and rapport, engaging parents/guardians when appropriate, keeping confidentiality at the forefront and staying up-to-date on best practices.
Building Trust and Rapport with Youth
Having conversations with youth about substance use can be difficult. It's important to first establish a trusting relationship that fosters open communication and encourages active engagement and receptiveness to sensitive topics related to substance use.
The best way to acknowledge varying backgrounds and identities is to have a respectful and open conversation. This will help to establish boundaries and provide a general sense of the youth's perspective.
Check out this quick video to learn more about building trust and rapport with the youth you serve.
This Building Trust and Rapport with Youth Guide includes additional steps that youth-serving providers can take to build trusting and meaningful relationships with the youth they serve. Building and maintaining relationships with youth is essential to gaining their trust. It is important to note that this guidance should be adapted to fit each relationship accordingly, as one size does not fit all.
The following tips can help youth-serving providers approach such a conversation.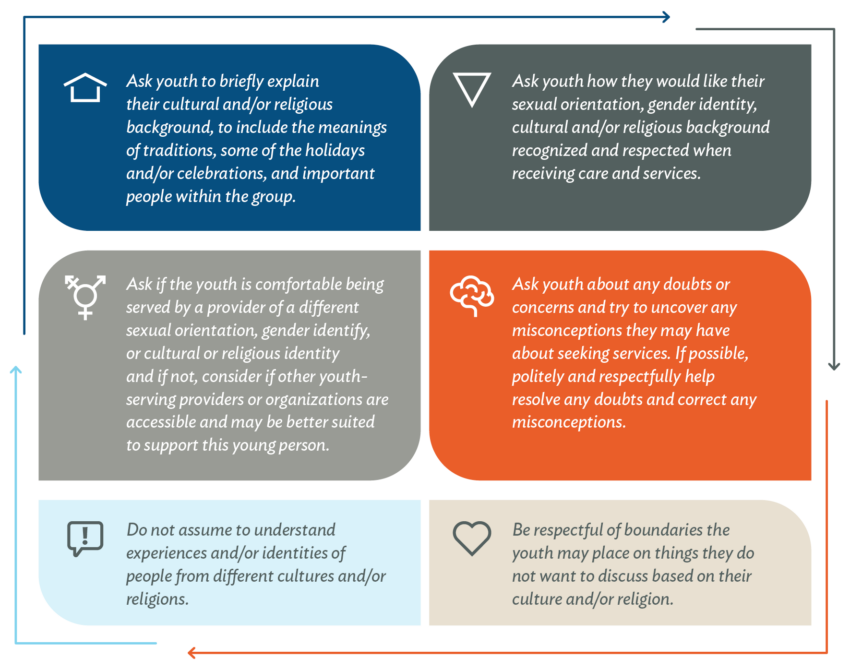 Communication Pathway
The purpose of this worksheet is to guide you through a few simple communication steps that can be tailored to any circumstance.
Prevention Language Guide
Language is powerful. Words impact the way individuals interpret ideas, perceive intentions and view the world around them. The words we choose to use matter. This is especially true when talking about substance use. That's why it's important to use non-stigmatizing, person-first language to reduce stigma and negative bias. This guide, Language Matters When Discussing Substance Use, outlines how to incorporate non-stigmatizing language into your conversations with young people.
This project is supported by the Centers for Disease Control and Prevention (CDC) of the U.S. Department of Health and Human Services (HHS) as part of a financial assistance award totaling $1,500,000 with 100% funded by CDC/HHS. The contents are those of the author(s) and do not necessarily represent the official views of, nor an endorsement by, CDC/HHS or the U.S. Government.