Having framed the conversation to reflect what youth care about, the next step is to share compelling reasons to avoid substance use. This table highlights statements considered most convincing by youth.
Note that some of these statements are specific to one particular substance, while others are more generally relevant.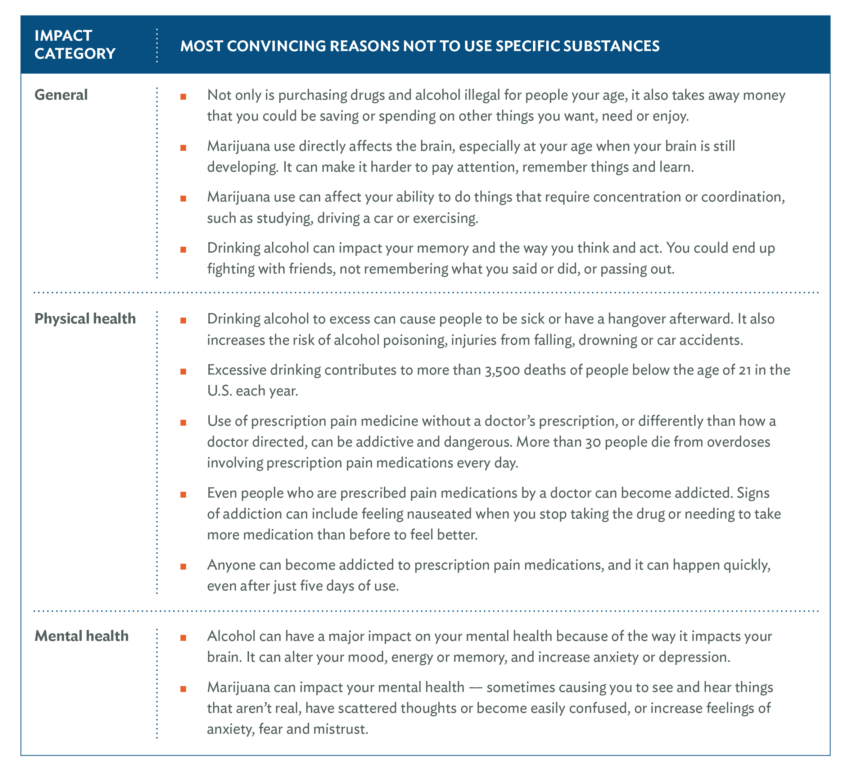 Substance Fact Sheets
When engaging in conversations of substance use, youth are likely to have questions and want to know more about the risks and impacts of drugs and alcohol. Therefore, it's important that youth-serving providers are aware and knowledgeable about the most commonly used substances. The fact sheets below are intended to educate youth-serving providers and facilitate knowledge sharing with young people when delivering prevention messages and discussing substances.
This project is supported by the Centers for Disease Control and Prevention (CDC) of the U.S. Department of Health and Human Services (HHS) as part of a financial assistance award totaling $1,500,000 with 100% funded by CDC/HHS. The contents are those of the author(s) and do not necessarily represent the official views of, nor an endorsement by, CDC/HHS or the U.S. Government.